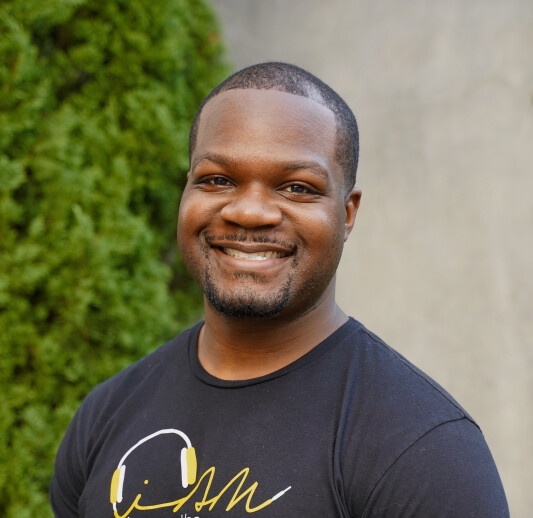 Meet Minister Keith Overton-Hadnot
Minister of iAM Ministries
Keith Overton-Hadnot is the Minister of Infants, Children, Youth, Young Adults & College Students, "iAM Ministries" which is a vibrant and growing fellowship of young disciples of Jesus Christ. The iAM Ministries constituents include infants/preschoolers, children (grades 1st through 5th), youth (grades 6th through 12th), college students, young adults, and parents.
Bro. Overton-Hadnot has served in several David Chapel ministries over the years, including the Music, Worship, and Fine Arts Ministry (MWFA), specifically, leading the Male Mime ministry, and participating in the Youth and Young Adult choirs. Growing up, he recalls his fondest moments in the Youth Ministry including the lock-ins, being taught the books of the Bible, attending youth camp in North Carolina, and participating in our mission trip to Juarez, Mexico. Of course, the vertical and horizontal relationships built are most meaningful to him. He has worked in a leadership or contributor role with the Youth and Young Adult Ministries for many years. In the Austin community, he has served in numerous capacities, primarily in areas of youth development and mentoring. He is the co-founder of Austin's TEK Mime Ministry. Bro. Overton-Hadnot is a member of the Alpha Phi Alpha Fraternity, Inc., Gamma Eta Chapter, Austin, Texas, and former Director of the Leadership Development Institute (LDI) for young leaders.
Bro. Overton-Hadnot is a product of the Austin Independent School District (AISD), where he graduated from Lyndon B. Johnson (LBJ) High School, specifically the Liberal Arts and Science Academy (LASA) in 2005. In 2009, he earned his Bachelor of Science (B.S.) degree in Business with an Accounting concentration from Stillman College (Tuscaloosa, Alabama) and in 2012 his Master of Business Administration (MBA) degree in Organizational Leadership and Management from Concordia University Texas (Austin). He is presently pursuing a Master of Divinity degree with a Biblical Language concentration from Wayland Baptist University (Plainview, Texas) and is expected to graduate in 2023.
His professional career includes working for the Texas Department of Family Protective Services as a Contract Specialist and Lead (2009-2014). He also worked as a Compliance Specialist (2014-2017) for the Texas Higher Education Coordinating Board; Auditor V (2017-2018) for the Texas Education Agency; Senior Auditor (2018-2019) for the Texas State Auditor's Office; and presently as the Director of Contract Monitoring (2019-present) at the Texas Health and Human Services Commission.
Bro. Overton-Hadnot is a native of Austin, Texas, and a lifelong David Chapel member. He is a Jesus-follower and servant-leader, committed to proclaiming the good news of Jesus Christ in the presence of a collapsing culture. His personal vision is "to lead in all aspects of life and develop others" for the sake of the Kingdom. Bro. Overton-Hadnot's favorite scripture is Philippians 1:6 (ESV), "And I am sure of this, that he who began a good work in you will bring it to completion at the day of Jesus Christ." He reminds us that God is alive and His work in and through us will never fail us if we believe in Jesus Christ.
Bro. Keith Overton-Hadnot is the son of Sis. Clarissa Overton and Bro. Kenneth Hadnot, and has a sister, Faith Hadnot, and twin brother, Bro. Kevin Overton-Hadnot.